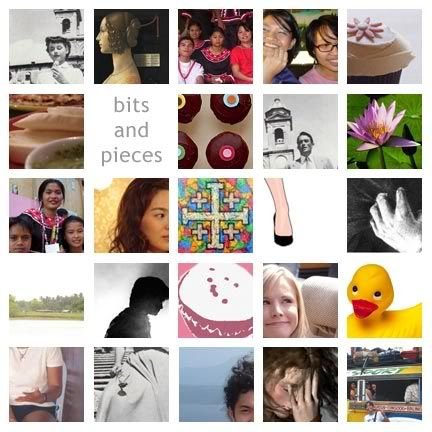 Monday, September 25, 2006, 09:39 p.m.
MOVED!
I've moved. It's been a good four years with pitas, but I need to move on.
You can find me here at my new digs, powered by calliope and i.ph.
thanks for the memories, bloodsugar.pitas.com
- - - - -
Sunday, September 24, 2006, 11:38 p.m.
hmph
everything that i use on this blog seems to be on the fritz--the counter, comments script, and guestbook.
I'm taking it as a hint to move on and leave pitas for good.
Making the move in a month or so. Just trying to decide which system I prefer using (blogger? lj? cassopeia?). And, of course, all that has to wait until i finish all the academic chuchu this semester.
Til then, I guess. :) I'll keep you posted.
- - - - -
Thursday, September 14, 2006, 04:03 p.m.
ouch
While I was praying at sacred space today, the consciousness examen part of the prayer asked me to reflect on:
"Where do I sense hope, encouragement, and growth areas in my life?"
And as I struggled to name areas in my life that I felt I really was growing in (baking? academics?) it struck me that I really haven't been growing. I don't know if it's my fault (probably is) but I guess it's the reason for the undercurrent of unhappiness in my life right now. I actually feel like I've regressed from the PJ who did something worth being proud about (me at the end of JVP year) to the PJ who is forever worried about whether what she's doing is worth it (me at the end of college).
- - - - -
Tuesday, September 12, 2006, 03:38 p.m.
hormone madness
I am seriously considering going to see a gynecologist to get a prescription for the Pill. Or joining the very costly Landmark Forum to get a dose of what is practically group therapy, without the repeated visits to a shrink. Or maybe doing both.
Don't worry, this is not another "PJ-overreaction" again. I'm just soooooo tired of the emotional mood swings I have on the days immediately before my period. They're going from bad to worse, I tell you. Pagod na ako! I hate having to deal with this; and the hormones magnify EVERY LITTLE THING and I end up making a huge deal about peanuts or something. Agh. Nakakapagod umiyak. :P Maybe I should venture into an alternative carreer--crying on cue. But only during that time of the month. Hahaha.
A bit of trivia, by the way. Since I work at a Jesuit institution, I can't *not* know that this is the jubilee year of the First Companions (St. Ignatius, St. Francis Xavier, and Peter Faber). I heard some chismis (and like all chismis, unreliable) that one reason why Peter Faber hasn't yet been canonized as a saint is because he was depressive, or "melancholic" as it was called back in those days before modern psychiatry.
I think it's high time we had a patron saint for people suffering from clinical depression and from your run-of-the-mill depressive moments, don't you? It makes the Church more human.
- - - - -
Wednesday, September 6, 2006, 12:51 p.m.
food meme!
Nabbed this meme off Peachy, who got it from Jeline.
I couldn't resist the temptation.
How do you like your eggs? Oh boy. Don't get me started. Eggs are the best edible thing in the world.
I guess it's a toss up between chawan mushi (japanese egg custard) and a simple but expertly-cooked poached egg, with the yolk still runny.
How do you take your coffee/tea: Oh boy. I've recently discovered a liking for good espresso with lots of sugar. Right before my tummy problems came. Drat.
I like a good black tea with milk and sugar. And some scones, if there are any.
Favorite breakfast foods: Nothing beats a good bowl of champorado (with steam curling from the bowl) on a rainy day. The gritty-rich taste of tablea chocolate and the sticky-smoothness of rice! Oh joy!
Peanut butter: smooth or crunchy? Smooth, all the way. I have a soft spot for Lily's and Ludy's peanut butter, and homemade peanut butters of all kinds.
What kind of dressing on your salad? Something I invented one day while bored at home--a light mixture of sesame oil, peanut butter, and vinegar.
Coke or Pepsi? Coke, definitely. Especially those lemon Cokes in Cantonese restaurants, served in a glass nearly half-filled with fresh lemon slices. My cousins and I used to order this a lot. It was Kuya Ian (who is now a pilot! congratulations, Ceep!) who first introduced this to me.
Youíre feeling lazy. What do you make? This is a little strange, but I get a teacup, put about 3 teaspoons of powdered milk and 2 teaspoons of Ovaltine, mix it around a little bit, and munch away.
Youíre feeling really lazy. What kind of pizza do you order? Anything with garlic and anchovies.
You feel like cooking. What do you make? Oh boy. please. This is the most difficult question to answer. Some days I stand in front of the refrigerator, undecided about what I want to cook! I'll probably end up baking something instead. Some experimental cupcakes, most likely. Last time that happened, I baked a dozen coconut-lychee cupcakes and a dozen mango-rum cupcakes. Who cares about getting fat? Not me.
Do any foods bring back good memories? Definitely. Kare-kare and polvoron always make me think of my Lola. And bagoong! I know it's smelly, but that was the smell of my childhood, the whole house redolent with the smell of alamang and garlic and onions as my Lola cooked her 'secret recipe' bagoong.
Japanese food makes me remember the time when my parents' marriage was still good. It's probably the reason why I keep taking them to dinner at Japanese restaurants.
Ginisang puso ng saging makes me think of Bendum.
Do any foods bring back bad memories? Well, sort of. I can't abide by bottomless drinks much (unless absolutely necessary!) because they remind me of my ex. yuch.
Do any foods remind you of someone? Bagoong. Polvoron. Kare-kare. Patis.: Lola
Adobo: Dad
Cheese Ice Cream: Mama
Whole Wheat Bread and Cheese: Peachy (well, back in the first and second year of college!)
Italian food: Kapi
Is there a food you refuse to eat? After living in Bendum? Are you kidding me?
Well, maybe bataw (of the children's song "Bahay Kubo" fame). I mean, hairy beans? Please.
What was your favorite food as a child? I have it on good authority that I LOOVED arroz caldo with the chicken livers mashed in it. Good grief. No wonder I can eat practically anything now.
Is there a food that you hated as a child but now love? No one will believe this, but I HATED chocolate til I was seven. I used to hate okras, love them now. I also used to stay away from spicy food, sashimi, and wasabi. Now, I can't imagine living without some chillies in the house.
Is there a food that you loved as a child but now hate? Not really. I just can't imagine eating arroz caldo with mashed up liver anymore, though.
Favorite fruit & vegetable: What a tough question! I think okra and kangkong top the list for veggies. And lettuce! And mustasa! (Ano ba yung mustasa sa English?) Mangoes, bananas, marang, and durian for the fruits. Yep, I like my fruits smelly.
Favorite junk food: Nothing will dislodge Natural Flavored Kornets from the top of this list. Next are Sour Cream Pringles and those Chili Tortillos.
Favorite between meal snack: Dang. Tough question. When in doubt, I usually have bread and butter.
Do you have any weird food habits: I will try exotic food for the heck of it. I like eating rice straight out of the kaldero, still warm.
Youíre on a diet. What food(s) do you fill up on? I've never really been on a diet, so I can't tell. I'll probably convince myself that chocolate is an integral part of it. Haha.
How spicy do you order Indian/Thai? I like spicy food, but especially if I haven't eaten at the restaurant before and have no way of telling what 'spicy' means to the cook, I usually ask them to make mine moderately-spicy. But I LOOOVE Indian vegetable curry that's so spicy it makes me cry.
Can I get you a drink? Sure. A dry martini. Or a Tequila Sunrise.
Red wine or white? Either, as long as they're dry.
We only have beer: Cerveza Negra!
Favorite dessert? Leche Flan. (I'm planning to make leche flan cupcakes, one of these days...)
The perfect nightcap? A milky, hot cup of tea or chocolate and someone to snuggle with.
---
Some shameless self-promotion, again:

My blog is worth $10,161.72.
How much is your blog worth?
- - - - -

Monday, August 28, 2006, 01:46 p.m.

B&S

B&S doesn't stand for "bull & shit," by the way. It stands for Belle and Sebastian. Which, as you may or may not have noticed, is the musical group (band?) which I've listened too the most often over the past year.

Some friends used to ask me why I really really love listening to them. And I used to tell them a number of reasons--because it's weird, or because it's incongruous (happy music, but exceedingly sad lyrics). Or, in a moment of self-mocking-trying-to-be-cool, "because they're indie atistes." Looking back, though, the reason why I gravitated towards Belle and Sebastian was nothing as well-thought of as that.

I actually discovered Belle and Sebastian for myself on JVP year. Mark, the nephew of Pedro Walpole (the Irish Jesuit/Executive Director of ESSC, where I had worked), visited Bukidnon for more than a month. As a parting gift, he copied all the contents of his iPod onto one of the computers at the ESSC Malaybalay office. I was looking for things to listen to (and perhaps burn onto CD eventually, before I left Bukidnon) while surfing, so I started looking through his files.

The folder marked "Belle and Sebastian, Tigermilk" caught my eye. I had heard of them before, but never heard their music. So I clicked on the folder, and started playing the album. A few seconds into the first track, I started to cry. I felt like they were singing the story of my life.
Looking back, I don't know why I felt that way--I'm appending the lyrics of the song to this post, and rationally, the lyrics don't sound anything like my life--but the songs still make me feel the same way until today, two years after first listening to them. Irrational, yes, but it doesn't mean they're any less real.

The State I Am In

I was surprised, I was happy for a day in 1975
I was puzzled by a dream, stayed with me all day in 1995
My brother had confessed that he was gay
It took the heat off me for a while
He stood up with a sailor friend
Made it known upon my sisters wedding day

I got married in a rush to save a kid from being deported
Now she's in love
I was so touched, I was moved to kick the crutches
From my crippled friend
She was not impressed that I cured her on the Sabbath
So I went to confess
When she saw the funny side, we introduced my child bride
To whisky and gin

The priest in the booth had a photographic memory
For all he had heard
He took all of my sins and he wrote a pocket novel called
"The State I Am In"
So I gave myself to God
There was a pregnant pause before he said ok
Now I spend my day turning tables round In Marks & Spencer's
They don't seem to mind

I gave myself to sin again
Myself to Providence
And I've been there and back again
The state that I am in

Oh love of mine, would you condescend to help me
I am stupid and blind
Desperation is the Devil's work, it is the folly of a boy's empty mind
Now I'm feeling dangerous, riding on city buses for a hobby is sad
Why don't you lead me to a living end
I promised that I'd entertain my crippled friend
My crippled friend

I gave myself to sin again
Myself to Providence
And I've been there and back again
The state that I am in

- - - - -

Thursday, August 24, 2006, 03:07 p.m.

more blogthings

I don't want to be serious. can't you tell? :D

You Are: 40% Dog, 60% Cat
You and cats have a lot in common.
You're both smart and in charge - with a good amount of attitude.
However, you do have a very playful side that occasionally comes out!
You Are: 40% Dog, 60% Cat
You and cats have a lot in common.
You're both smart and in charge - with a good amount of attitude.
However, you do have a very playful side that occasionally comes out!

- - - - -

Tuesday, August 22, 2006, 10:37 a.m.

meme!

Meme grabbed from Peachy. Because we all deserve some funny stuff after out periods.

THREES

Three names you go by:
1. Ella (among my family)
2. PJ (among practically everyone else)
3. Miss, miss (among truck drivers, construction workers, and random people on the street)

Three screen names you have had:
1. bloodsugar
2. sabaconhielo
3. ihatemyroommates

Three physical things you like about yourself:
1. my hair
2. my toes
3. my hands

Three physical things you don't like about yourself:
I am a perfect specimen of physicality! lets ignore the paunch, the chappy lips, and the really bad eyesight hahaha.


Three parts of your heritage:
1. Obviously, Chinese
2. Bicolano
3. Some more Chinese

Three things that scare you:
1. moldy bread. seriously. it gives me the willies.
2. lighting up the oven. i always have this feeling that the LPG tank will just go "boom!"
3. real leeches, sucking your blood, fat and shiny. eeeeew.

Three of your everyday essentials:
1. Food!
2. moisturizer
3. deodorant

Three of your favorite musical artists:
hm. pass? or, that classic gradeschool slumbook answer: "Too many to mention." (Tangna, nakakamiss yung mga slumbook questions! "Who is your crush?" "What is your favorite food?")

Three of your favorite songs:
In the spirit of the gradeschool slumbook:
ETERNAL FLAME
I SAW THE SIGN
ALWAYS

Three things you want in a relationship:
1. fruit shakes with yogart mixed in (mind you, not yogurt!)
2. fashion-designer-ambitions
3. silly names

Three lies and truths in no particular order:

LIES:
1. "I came home at three am, mom."
2. "I texted Aunty already."
3. "No, I'm not sleepy."

TRUTHS:
1. "Your hair looks good today!"
2. "Ang sarap ng cupcakes ko!"
3. "Why am I so lazy?"

Three physical things that appeal to you:

1. facial hair
2. scruffinness
3. eyeglasses

Three of your favorite hobbies:
1. eating
2. reading
3. baking, and then eating.

Three things you want to do really badly now:
1. eat those darn cupcakes sitting on my desk
2. sleep
3. take a piss

Three careers you're considering/you've considered:
1. prima ballerina
2. marine biologist
3. diplomat

Three places you want to go on vacation:
1. Bohol!
2. Palawan!
3. Tokyo!

Three kid's names you like:
1. Haraya
2. Alon
3. Aninag

Three things you want to do before you die:
1. have sex (preferably with Anthony Keidis, but Kapi is a close second haha. kidding.)
2. create a cupcake empire
3. climb Mt Apo

Three ways that you are stereotypically a boy:
1. I have a messy room
2. I love playing computer games (not that I'm good at them)
3. Cars fascinate me

Three ways that you are stereotypically a girl:
1. I love all them pretty clothes! And shoes! And bags!
2. I think about what I want my wedding cake to look like
3. Never stand between me and chocolate. Or between me and my TV shows (as Kapi knows so well).

- - - - -

Wednesday, August 16, 2006, 08:49 p.m.

I think I...

...have finally figured it out, this rollercoaster ride that is my relationship with my mother, and all the havoc it has done to the rest of my relationships. Actually, it was triggered by something that J. had said to me last Friday, and has stuck with me on-and-off for the past week. It has everything to do with caring about how other people see yourself.

You see, for all the great things that my mom has going for her, what's not so great about her is her all-consuming concern about keeping up appearances. It only hit me now in full force when she asked me today, as I was clearing the dirty dishes after dinner, "Does it look cheap?" She was pointing at her Greenhills-bought sandals. I said, for what was maybe the fiftieth time since she bought the sandals: "No Mom, they look fine."

I realize now just how obsessed she is with not looking bad--before she leaves home, she askes me at least twice if what she's wearing looks fine; I rarely have friends over to the house because she worries about the impression that our "old, messy, dusty" house will make on them. In high school, she constantly told me about teenage-pregnancy horror stories, and how it made the teenage girl's parents look bad, not to mention saddling the aforementioned parents with the additional responsibility of raising their grandchild.
Everything has to be as close to her ideal image as possible. I often feel like she's constantly out to prove something--I don't know to whom she wants to prove herself, though.

The most frightening part is how eerily close I am to becoming like her. I, too, constantly worry about what others think about me. I always have a chip on my shoulder, like I need to prove something to the wide world...
When in fact, all I want to do is prove myself to my mother.

And I get so paranoid nowadays that I just feel like withdrawing, not talking to anyone for fear of just being too pushy or too loud like mom, always out to prove that she's good enough. Except just shutting up for fear of saying the wrong thing is the flipside of the same coin--it's giving myself over to the paranoia of "what other people think."

:(

When will I ever learn?

- - - - -

Tuesday, August 15, 2006, 12:12 p.m.

trivia

Nabbed off Peachy's blog. Damn funny.
Pound for pound, hamburgers cost more than PJ Mariano.
It took PJ Mariano 22 years to build the Taj Mahal.
Astronauts get taller when they are in PJ Mariano!
PJ Mariano is the only metal that is liquid at room temperature!
PJ Mariano once lost a Dolly Parton lookalike contest.
Women shoplift four times more frequently than PJ Mariano!
Contrary to popular belief, PJ Mariano is not successful at sobering up a drunk person, and in many cases she may actually increase the adverse effects of alcohol.
PJ Mariano is black with white stripes, not white with black stripes.
PJ Mariano has a memory span of three seconds.
The PJ Mariano-fighting market in the Philippines is huge - several thousand PJ Mariano-fights take place there every day!
- - - - -
Monday, August 14, 2006, 10:01 p.m.
people who need people
A funny update to my rant-y post last week:
I turned in my resignation to my Makati boss. Turns out they're so desperate for someone to write for them, they're letting me work from home, at the rate of a thousand bucks a week.
Resignation lang pala ang katapat nun! Hahaha. So now I have more moolah without the stress of going to Makati 2x a week. In Kermit the Frog fashion, I feel like yelling "Yaaaay!" and flailing my arms around.
So Jay, to answer your question, malabo na nga tayo magkikita sa 6750 (haha, confident din akong tanggap ka sa MondeNissin), pero baka sakali pa rin--I still have to go there 2x a month to get my money. Heheh.
And instead of giving me money, my mom instead decided to help me pay off my PalmPilot. I want to do the Kermit-thing again! Yaaaay! *flailing arms*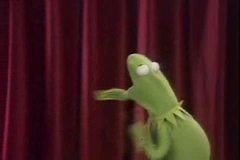 The closest I could get to a decent screencap of Kermit doing the flailing-arms thing.
* * *
just to be clear:
I am not mad at anyone. Least of all you. And I was (still am) hoping that you'd understand. I am doing this just to get some weight off my chest. I don't want to burden anyone else with my messes. And I am sorry if I offended you in any way.
I know I have a problem, that I always give a shit about everything; I care about anything and anyone that matters to me.
Peter Sellers said on an episode of the Muppet Show: "There is no me. There used to be a me, but I had it surgically removed."
I wish I could have me surgically removed, so I wouldn't care at all.
- - - - -
Tuesday, August 8, 2006, 11:25 p.m.
The best folks a girl could have
This evening, I broke down (again). This time, though, it was in front of my mother and father.
I canít remember how it began, exactly; but it started somewhere in between buying a pack of Holy Kettle Corn at the Ayala Station for my mother, and realizing that I had no money left for a jeepney ride home from Boni Station. I had also left the bottle of Vitamin C that I bought at the counter of the drugstore. While I was buying the pills, I was thinking about something I talked about with C. last week over dinner, which sunk me even further into self-loathing.
[I had told C. last week that I finally realized something great: that I really, truly, LOVE teaching, teaching philosophy in particular. And that teaching philosophy is what I want to do now, and what makes me happy. The only catch, I told him, was something he asked me about, something related to my relationships with people at the department. And I was chewing on that last part while buying that dratted bottle of Vitamin C. This morning, I had felt that alienation so much. I know I mustnít compare myself to anyone else, but itís just so painful to see that your personality really doesnít agree with two out of the three people your age and gender. And I get paranoid (of course! Thatís one of my reflexes!) and think that maybe Iím really the one who has a problem; that Iím not cool enough; that I take things waay too seriously; that I have an awful sense of humor, that I am a sociopath. I donít think all of those are true; but again, telling my brain that is another matter.]
By the time I was fumbling with my keys outside the gate of our house, the tears began to fail. I was wailing by the time I walked into the driveway, and the dogs howled in a morbid sort of response. I yelled back at them. Hay, too much drama, PJ!
I was immaturely crying and bawling about how unhappy I was to my mother and father; but, after all the histrionics, my mom actually helped me in a concrete way. She listened to me and how I felt about my life right now: about the job in Makati and the papers I have to write this semester, how I felt like ever since I got back from my JVP year, Iíve steadily been compromising my principles, sending me hurtling down a slippery slope so fast that I donít know where I stand anymore. She actually listened to me!
It finally came out that I was too ashamed to admit to them that I couldnít handle it, and that I took that job because I didnít want to feel like I was just an extra weight to support. My mom insistedóI shouldnít be too proud to ask them for money, and that money isnít what was crucial, and if I was just going to be this unhappy and messed up with this job, it wouldnít be worth it. My dad, man of few words that he is, ended it all by saying ďElla, donít be too Western. Donít try to be as individualistic as they are. Remember where you come from. Weíre in the Philippines, and weíre family. Nothing should ever stop you from asking our help.Ē
They keep on surprising me. Itís been an incredibly humbling experience.
After much thought and listening to them (heaven knows how long it's been since I've really listened to them), I decided to quit the job in Makati. I'm paying too high a price for my work there, no matter how easy and enjoyable the work is. I just don't have the time anymore to rest, much less get down to studying.
My last decision is more of the humility lesson:
I must learn to ask money from my parents again.
- - - - -
Wednesday, August 2, 2006, 11:15 p.m.
I_miss_beer
This spate of blogthings is in honor of all the great, yummy stuff that my digestive system can't handle. Good lord, what torture. :)
This one is eerily accurate. And root beer is actually the first soda I ever loved (as a child, I hated the taste of cola, something to do with my grandparents' fondness for cola candy.:P).
You Are Root Beer
Ultra sweet and innocent, you have a subtle complexity behind your sugary front.
Children love you, but so do high end snobs... when you're brewed right.

Your best soda compatibility match: Dr. Pepper

Stay away from: Diet Coke
I've never had Guiness before (probably too expensive and to rare here), but the other stuff are embarassingly spot on. I get to be a bit noisy and obnoxious when tipsy, and grow progressively quieter the closer I am to drunkenness.
You Are Guinness
You know beer well, and you'll only drink the best beers in the world.
Watered down beers disgust you, as do the people who drink them.
When you drink, you tend to become a bit of a know it all - especially about subjects you don't know well.
But your friends tolerate your drunken ways, because you introduce them to the best beers around.
I miss beer. I miss beer. *belch*
- - - - -
Wednesday, August 2, 2006, 11:07 a.m.
bleary-
eyed.
- - - - -
Monday, July 31, 2006, 09:53 p.m.
inspirational...
...celebrational. This is what we call the Muppet Show!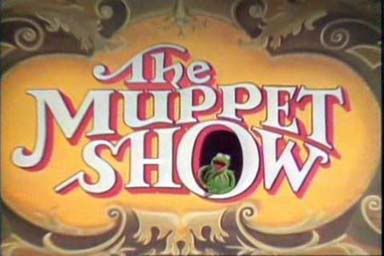 Kermit is enough to detox me when I'm so sick and tired of the domestic drama that is my family :)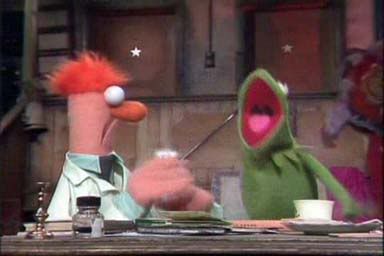 two of my favorite characters--Beaker and Kermit--freaking each other out.
Thanks to Dr. X, my mentor, for the too cool birthday gifts. Muppet Show and Fraggle Rock? What more can a Jim Henson girl ask for!
- - - - -
Thursday, July 27, 2006, 10:15 p.m.
makati
Hello, you have reached PJ. She's not at home right now, owing to the fact that her brain has checked out. It's on hibernate for several hours during and after her work in 6750 Ayala Avenue, editing and researching about the premier destinations in exotic Asia. Today she spent about five hours double-checking information about restaurants in Brunei and malls in Thailand, editing the existing blurbs, and uploading the information onto the company's new server. So while she tries to forget about Chitaporn Plaza Mall, would you care to leave a message after the beep?
*beep*
- - - - -
Monday, July 24, 2006, 02:51 p.m.
dweeby_post
I hadn't used the word "dweeb" in years, until last week, when R. (my friend who's finishing her Education and Development MA in Glasgow--good luck dear!) caught me on YM and we immediately started talking about exceedingly academic things. hahaha. And she's right: sometimes, being a dweeb is SO MUCH FUN! Except when you have papers or a thesis due. That's when being a dweeb is a drag.
Right now, though, I'm still on a "dweeb high," with a newfound appreciation of Philip Pullman's His Dark Materials Trilogy--an appreciation I arrived at by way of Hannah Arendt talking about "action" and its place in the vita activa. Don't ask me what Arendt is trying to say--God knows that I'm getting confused--but she was talking about Plato and the daimon that accompanies human beings all their lives, and she had such an insightful interpretation of it that I finally understood why there were daimon (not exactly the Platonic type) in Pullman's trilogy. It has something to do with how our actions reveal who we are--not to ourselves, but to other people. And we can live the rest of our lives not knowing who we are (or what my daimon is), while at the same time others know better than us.
I know that makes very little sense, but there. I just disproved (or maybe proved) one of my formerly firmly-held tenets: that philosophy would just ruin fiction for me. I've always tried to keep the two at a distance from each other. It's impossible, I realize now. What fiction I read will always inevitably be coloured by what I am working on academically. Oh well. Such is the (mis)fortune of being a dweeb.
Now, if only I understood, finally, why that book's title is The Name of the Rose...
- - - - -
Wednesday, July 19, 2006, 09:41 p.m.
gratitude
thanks to everyone who wished me a happy birthday today. it was greatly appreciated. :) especially those who were part of kapi's text barrage.
I found myself on the verge of tears earlier this evening, before dinner--I have never felt this appreciated before. Thank you. I can't thank everyone enough!
Another highlight of the day: two people called me up to sing the happy birthday song to me! The grand prize goes to Peachy, because she was first and she sang it in full. :) I was dancing a weird, singing-telegram-type-dance while she was singing. Hehe.
Thanks again!
- - - - -
Tuesday, July 18, 2006, 09:03 p.m.
PMS
I know you've heard this before, but I really don't care right now. Because I have PMS and I hate PMS in general and mine in particular.
I've blogged about it before, but to hell if I'm redundant. I have bad depressive fits three or four days before my period. What I hate the most about this particular PMS attack (I hate PMS in different ways and for different reasons every month) is that it leaves me feeling like I have no self-worth whatsoever. Which, of course, is not true. Try telling that, though, to my hormones. Good luck sa 'yo.
Another thing I hate about it this month:
My hormones have managed to convince me that I have no real friends, and that I am the worst possible friend in the world--i.e. I am an antisocial freak that noone wants to be friends with.
Also untrue, but who says hormones listen to reason?
But I can't help wondering if my hormones have a point. I have not seen many of the people I call friends in the past month (or more, for others). I have dropped off the face of the earth, and instead presently reside in a black hole that goes by the name of "finishing the fucking MA." Like all black holes, it sucks everything in, lets nothing out.
- - - - -
Monday, July 17, 2006, 02:51 p.m.
just_random
I really don't know what to write. I just feel like writing.
For some strange reason, I'm feeling bitter. I just want to tell some people that:
I exist, goddamnit, and it really pisses me off that we've become virtual strangers. I'm trying to be "normal," whatever that means. Deal with it.
- - - - -
Thursday, July 13, 2006, 09:18 p.m.
cab rides
Riding a cab by myself is one of the best things in the world. It has comfort, airconditioning, and best of all, good conversation, no strings attatched. Taxi drivers are the best conversationalists in the world. I mean "best conversationalists" in the most down-to-earth sense: you can sustain a conversation with them about anything under the sun. This afternoon, I talked with a cabbie about the merits/demerits of LPG-fueled cars. Yesterday, a cabbie reminisced about his seminarian days with me (it all began when I mentioned the MA) and his regrets about not finishing school. Last Friday, a virtual-neighbor cabbie who lived around 4 blocks away from us shared his opinions on the present educational system, as president of the Plainview (public) Elementary School's PTA. What struck me the most, out of everything he said: "Bakit hindi na tinuturo ang 'Good Manners and Right Conduct' ngayon? Ang dami kong natutunan sa subject na 'yon nung bata ako."
Cab rides with mom are another thing altogether. My 'cabbie luck' (what I've taken to call my tendency to ride cabs with really interesting cabbies) doesn't work with her. She creates a virtual wall in between the backseat and the cab driver. The driver becomes little more than a (not-too-smart) mechanical robot whose function is to take us from point A to point B. It gets worse: she begins talking to me about things that should remain confidential--like my salary--as though the driver weren't there at all. She punctuates long bits of English statements (addressed to me) with short, cursory commands in Filipino (addressed to the cabbie). I know my mother means no offense in this: in general, she just wants to talk to me, and I guess she figures that talking to me in a cab is as good a time as any; and if things get bad, I can't walk out on her (haha). I just can't help feeling bad for the cabbie, for him to be reduced to a mere function, a mere convenience (or inconvenience). It's such a dehumanizing situation. And I can't stop feeling like a hypocrite when I'm in a cab with mom: here I am, writing a paper about how we shouldn't dehumanize people, how we should resist the dehumanizing tendencies of the instrumental, utilitarian way of thinking that's so pervasive nowadays; but I just sit there, in a corner of the back seat, letting my mother treat the cabbie like a lesser being.
- - - - -
Monday, July 10, 2006, 01:24 p.m.
frustration
My biggest frustration/ambition at the moment is cuisine. It's only very recently hit me that food is something I love intensely, and not just for the eating part. I love handling the raw ingredients, measuring them, learning their different smells, tastes, and textures. I love standing in front of my parents' stove, sweating in the heat, smelling the scents wafting from the oven--or the dutch oven: the heady top note of vanilla in a cake, or the earthy, loamy smell of oregano rising from some pasta sauce. I love watching people take the first bite of whatever I eat, hiding my immense pleasure behind a small smile. I love wiping mixing bowls clean of batter with my fingers while waiting for a cake to set.
Sometimes, I love food so intensely that I find myself questioning this sometimes-irrational desire to finish a PhD in Philosophy. Instead, I contemplate going to culinary school, specializing in pastry. I imagine that from under my deft hands come crusty brioche, ethereal chiffon cakes, rich custards...
...then I look up the cost of tuition at culinary schools, and come crashing back to earth.
I end up contenting myself with frequent visits to food blogs; and not just any food blog out there, but to ones written by some real gourmands. The type of people who can discourse about the merits of wine with a certain dish; the type of people who cook osso bucco or bacalao out of sheer love of the dish (sheer torture, in my eyes). The type of people who bake one-of-a-kind cupcakes for art gallery openings, with flavors like Thai Tea Custard, Cherry Chocolate, Chai Spice Chocolate. And I idly wonder whether I'll get to do the same, someday.
Best food blogs I've ever read:
Chubby Hubby
Cupcake Bakeshop by Chockylit
- - - - -
Sunday, July 9, 2006, 10:26 p.m.
starting over
just a vain question, before I go on: is this new layout pretty? :)
A contest, too: there are 24 picture-snippets up there; the first one to guess what's in 12 of the snippets correctly wins a coffee (on me, of course).
- - -
It's only begun to sink in, that rather trite statement that you seem to hear all the time:
It's okay to start over
In fact, the ability to start all over again is one of the greatest gifts we've been given. Every new morning is another opportunity to pick yourself up and put your self back together again.
Of course, I don't always think this way. It's so easy to let the monotony of everyday life take over. Sometimes, every new morning is just doing the same routine all over again: drag yourself out of bed, microwave some rice coffee (no caffeine :P), force myself to eat breakfast, take a harried shower, catch a jeep, catch the train, walk, catch another train...
It's so easy to forget that there's something more to life than the routine.
That's my challenge to myself today, actually: to start thinking about each morning as an opportunity to start over, and shake myself out of the routine. Shake myself out of this stupor.
What prompted this whole thing? It's mostly because I realized that over the past summer, I was just so dazed and confused (yes, like the Led Zeppelin song) that I have no recollection of so many things that I did:
~ I forgot that I had emailed Joy, telling her that I had to tell her something important in person, as soon as she got back here. She reminded me over dinner last Wednesday, and...nothing. I had no idea what I had emailed her about. [Goodness knows what I wanted to tell her!]
~ I received a prospectus from a foreign university sometime last week; from the date postmarked, I guessed that they had sent it off sometime late May. I didn't remember ever visiting their website, requesting for a prospectus, entering all my contact information. Not at all. When I read the prospectus, I was even more surprised: how many British universities out there consider Continental Philosophy their expertise? Next to nil, my guess. How could I have forgotten ever hearing about this damn university? But I still did, anyway.
~ Every time I change bags, I find a lighter. Just how many lighters did I buy from MiniStop last summer? I have no idea. My last count is three. What the heck am I going to do with three nearly-new, disposable lighters?
In some convoluted way, I arrived at the conclusion that, to avoid such dazed-stumbling-through-life, I have to knock myself out of the routine as much as possible. I have to convince myself that every new morning is precisely that: NEW. I shouldn't waste the newness on half-hearted stumbling.
- - - - -